The best Mother's Day gift is being a mother. I can hardly believe how blessed I am.
And I live in such a flower and chocolate cushioned first-world that it can be easy to overlook what some moms desperately want for Mother's Day...
Some moms just want the gift of watching their children grow up.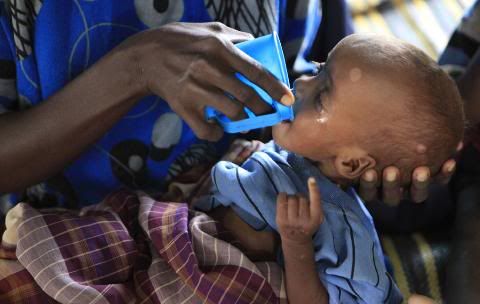 (source)
On the low end, I found statistics reporting 16,000 children die everyday from hunger. The numbers on water-related illnesses and deaths are staggering... enough to make me ill.
When I don't look away from the pictures quick enough, or when I read a true story long enough, I can't help but shaking my head and saying
"Oh God, how can it be?... And what am I to do about it?... "
As a two-business running, ministry organizer/leader, wife to one and homeschooling mom of two with a 17 month old doing her best to stop all progress with her adorable(trouble) toddler-ness---
I know that time is limited. Money is limited. Energy is limited.
But we can still make a
huge
difference together!
Here are some ways to give when you don't have time to volunteer or money to donate by simply doing things you are already doing and spending money you are already spending in a slightly new way:
1)
Search for Something Online.
Have you heard of
GoodSearch?
All you do is take a minute to set up what charity you want money to go towards... then search! You raise money with every. single. search. Stop googling. Don't bing. Start good searching!
Same results for you... life changing results for someone else.
2)
Buy Groceries.
I'm good at this one. Too good most months. I make lists and I plan and I am still amazed at how much money we eat each month. I try to shop when all three kids are in between meltdown hours-- which means their prime eating hours--and if I have a long list there will most likely be a box of some kind of cracker opened before we checkout. Yes, I am that mom. Don't judge me. Instead,
check to see if your favorite grocery store has a reward program that allows you to donate a portion of your purchase to your favorite charity.
Many do! I shop at Kroger often and each purchase helps out my local pregnancy resource center. You can learn more about this cost free way of giving by
clicking here.
3)
Shop Online.
The next time you download something from iTunes? Buy something from Amazon? Target? Land's End? Countless other online retailers... just shop through
GoodShop.
1%-30% of your purchase will be donated!
4)
Pay Your Bills.
Even our luxuries can help provide other's necessities. If you pay your bills(electricity, cell phone, internet, TV etc.) through my
online store
,
an immediate $25 donation per each bill
goes to supplying clean water, desperately needed food, or to rescue girls from the horrors of trafficking(other donation options are available as well--contact me for a full list).
A recurring donation between $5-$10 will also be made each month
,
contact me at elisehurd(at)gmail(dot)com for details
.
This means that in one year you would donate up to $145 for simply paying your monthly bills.
How much difference does $145 make?
$145= over 13 pairs of
chickens
or
rabbits
to families in need.
$145=An
adult tricycle
(even the lame can use this for transportation because it's hand operated), 2
mosquito nets
to protect from malaria, and a
fishing net
to provide daily food and an income source.
$145=
clean water
for 30 people.
$145=29,000
gospel tracts
.
$145= will provide almost
300 Emergency Nutritional Feedings
to children under 5 years old.
$145= 1 girl saved from the horrors of human trafficking, and aid her recovery process.
5)
Write a Letter.
Did you know that you can can breathe hope and life and value into the life of a child by a simple letter?
If you are willing to simply write a letter 3x a year to an unsponsored child, you can become a child correspondent with Compassion International.
Click here
to contact them, requesting to become a part of the child correspondent program.
Don't think a letter makes that much difference? Watch this:
Let's make a difference together this Mother's Day. Let's give the gift of Life. Of Hope.
Let's be good stewards together for His glory and our joy.
I
'd love to hear your ideas on how to give and serve that are no-cost or low-cost! Please share in the comments!