I think they were surprised at my response, really.
After all, I am a makeup artist and hair stylist.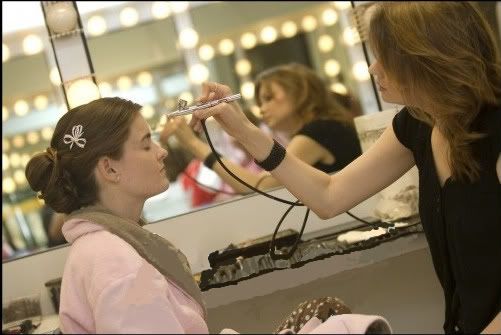 The Bride and her Bridesmaids had been saying for a good half-hour how they would definitely be using any and all available methods-regardless of health side effects-to keep the signs of aging far from their faces.

I curled and sprayed and styled their hair silently, the professional neutral expression twitching on my face.

It was then they said that the mouth "parentheses" and crows feet around the eyes are so ugly, and since we have such great medical ways now of "erasing" those signs of aging, it only made sense to use them... didn't I think so, too? What were my thoughts on botox?
All eyes turned to me, the informed professional as they'd mentioned repeatedly, the one they viewed as changing them from ugly ducklings into up-do and airbrushed beauties.
I smiled wide and gently, continued winding soft strands around the hot iron, having been asked something along these lines many times before.
"Well... I guess I don't have a very traditional American view on wrinkles or beauty..."
Heads slightly leaned to one side, all eyes inquisitive.
"And I guess in large part that is due to my mom. You see, the main thing I remember about her, from all of my growing-up years, is how she was always, always smiling at me... at my siblings... at all of us..."
"... she told me once, I think I was a new mom, that she read somewhere about the importance of smiling at your kids, that it was important for them to see it on your face when they entered the room that you were so happy to see them... for them to see it on your face that you love them and treasure their presence..."
"... and I have always felt that from her. And when I think of her face... I think of her smiling at me. That is one of my most precious memories of my Mom..."
"... and it would be really sad for me if she got botox or something... because it would erase all the beautiful evidence of those years."
The silence was full of teary memories. The Mother of the Bride's smile settled softly in it's familiar lines.
"And..." I added honestly. "I know I am only 26, but I have begun noticing that expression lines have started on my face, too, and it is very strange. I can't really imagine what it'll be like watching my face change... but I pray to age gracefully... In my attitude about it, I mean. And I hope, I pray, that when my daughters think about my face towards them, they will mainly remember my smiling at them. And I plan on keeping the evidence."


And I have said it countless times: I don't, I can't "make you beautiful" if you're not already beautiful. Beautiful is from the inside. It is not created by pigments and brushes and sprays and accessories. It is not restricted to certain facial features or colors. It does not expire at a certain age.

When I do makeup and style hair, I'm just putting an occasion-appropriate personalized frame on the masterpiece that you already are.


For real beauty on your face, the kind that can become spirit-genetic... the kind that can remove years of soul-wrinkles...the kind I really want to pass along to my kids...for them to say they "got it" from their mom... the scripture says these things work together, one producing the other:
"A happy heart makes the face cheerful...A cheerful look brings joy to the heart..."
And a cheerful heart is a
good medicine
.
A healing, restorative beauty
that can't be bought... but that can be applied
right now.
Be intentional about smiling at your kids today? A lot? They'll notice. They'll remember.
And try a face boot camp for your husband?
***I love you, Mom. You've taught me more about beauty than I'll ever be able to express.***